Get a Cash Quote in 24 Hours
Close in as little as 7 Days
You need to sell your house. You want to make it happen as quickly and easily as possible. You are ready to move on with your life. However, it will not sell in its current, outdated condition. Plus, it is full of random items that have been accumulating for many years. Who has time to fix it up? You don't, much less stage the house and walk picky buyers through it for weeks or months. You want to sell it within days. Getting top dollar isn't as important to you as selling quickly and easily, but you don't want to be taken advantage of.
You'd like to sell this house in days, not weeks. Who can you trust to buy your home and manage the sale professionally? You require a quick and pain-free process, but you still want a fair price for such a large asset.
The money for the house won't be locked up in banks or paperwork; FasterHouse will make you a straight-cash offer.
You need to close as quickly as possible and move on with your life.
You want a fair price assessment and quote from an honest, trustworthy professional.
You don't need to invest your money in new appliances, floors, paint, windows, or any other financial setbacks.
You need assistance in cleaning up the house, selling valuables, removing trash, and cleaning years of clutter.
We are a St. Louis based company, not a franchise with out-of-town buyers purchasing homes in this area.  We only buy homes in the St. Louis metro area.
We have real people answering the phone who can talk openly about the house you or your family have lived in for years.
We stand by our commitments to our homeowners and work diligently  to move the process forward quickly.
We are the end buyer and have the capital necessary to purchase your home for cash.
We work directly with reputable title companies to make sure the paperwork process is as smooth and easy as possible.
We can refer you to reputable estate sellers and other resources to help ease the burden of what's still in the home.
FasterHouse, LLC has been buying houses in the St. Louis real estate market since 2002. We provide fair and honest cash quotes within 24 hours or less, and can close on a house in as few as 7 days. We're timely and responsive to your exact needs, and will purchase your home as-is.
Result of Using FasterHouse
You have sold your home in a matter of days without having to invest much effort at all. You received a fair price, and you are free of the burden of owning the home. You can now move on quickly using the profits from the home to relocate, or relocate your loved one. If it was an inherited house, you are now able to settle the estate, divide the assets and get back to your own life.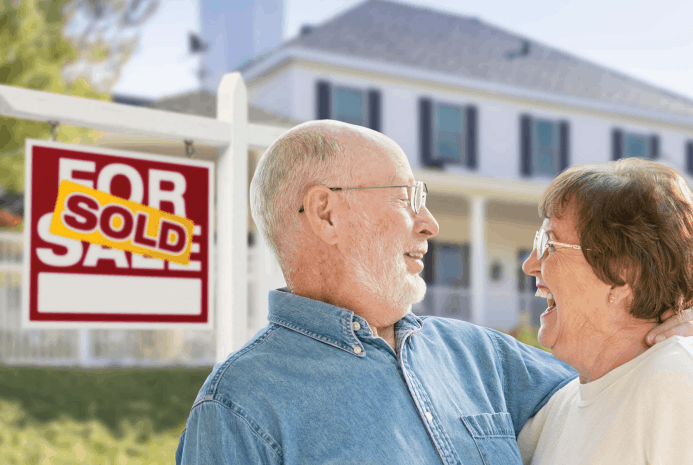 FasterHouse is a most-referred home buyer of senior communities, veterans groups and probate attorneys.
FasterHouse is the company they trust to refer their clients.
Frequently Asked Questions
Who is FasterHouse?
FasterHouse is a locally owned and operated real estate investment company located in St. Charles, Missouri. We are not a franchise. We buy homes throughout the St. Louis metro area and are invested in our community. We have been in business since 2002 and have an A+ rating with the BBB. FasterHouse has built a reputation for solving house problems for hundreds of customers in a variety of situations. While some companies simply want to buy houses for the lowest price possible, FasterHouse believes its service is about more than a sale – it's a solution. We work with established, reputable title companies and lenders. Dependability and confidentiality are essential to our work. FasterHouse buys houses faster and easier. There is no fee for a FasterHouse consultation. High-pressure sales are never part of our business – just friendly, helpful advice and customized solutions regardless of your situation.
How does the process work to sell my house to FasterHouse?
Step 1: You complete the form on this website or call 314-200-5122 Step 2: One of the FasterHouse buyers will call you to set up an appointment to view the property, discuss your situation and see how we can help. Step 3: FasterHouse makes you an offer within 24 hours of viewing the property. Step 4: You decide if the offer works for you., iIf so, a contract is written up and signed by both parties, a closing date is set to purchase your home and FasterHouse takes care of all the details. Step 5: On the day you pick to close, you will go to the title company, or other arrangements will be made if you cannot go to the title company to sign the paperwork required to sell your house. You leave with a check for the purchase! It is that easy!
What types of property does FasterHouse buy?
We buy single-family houses, condos, townhomes, duplexes, and four-plexes in the St. Charles and St. Louis Metropolitan Areas. We buy properties in any condition. There is no need to make repairs or updates to your property before selling to FasterHouse. We will even help you if your house has accumulated lots of items over the years that you no longer want. We have connections to help you sell or donate your unwanted items. We buy homes as-is. Call us today and we will make the whole process quick and easy for you!